Payment is due in full the same day treatment is provided.
Payment options:
Cash: This includes money orders and checks
Credit Card: We accept Visa, MasterCard, American Express and Discover
Care Credit: A financing plan offered as a separate line of credit, Care Credit offers 0% financing and flexible extended payment plans of 12 months for over $200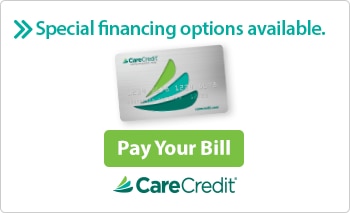 For our patients with Dental Insurance
For our patients with Dental Insurance, we provide a courtesy billing to your insurance company. We will provide you with an estimate of your insurance benefit based on the information we have. This is an estimate only. There is no way to guarantee exactly how much an insurance carrier will pay for a particular procedure. You are responsible for any fees not paid by your insurance carrier, regardless of the benefit estimate provided. If there are any problems obtaining reimbursement within a reasonable period of time (4 weeks) we will ask that you contact the insurance company to expedite payment on your behalf.
Please provide all insurance billing, and benefit information at or prior to the first appointment for which we will be billing your insurance carrier.
Please be prepared to pay your estimated co-payment on the day of treatment.
Note: If we do not have all of your insurance information at your first appointment or if we are not in network with your insurance carrier, we will expect you to pay in full for your treatment.